Hi Dolls!
An outfit of the night post which is actually a month or so old (sorry!). I meant to post about this sooner, but I hadn't got any decent pics of the outfit on the night, so I've had to recreate it in better lighting to show you.
I went to see Indiana play live at The Bodega, a little indie venue in town. She isn't a big artist yet, but she'd just been named Track of the Week on Radio One, so I'm pretty sure she's going to blow up soon. A friend had told me about her music when he was considering going to the gig months ago, I had a listen and fell in love instantly! If you like artists like Delilah and Jessie Ware, then you'll probably appreciate her stylings - haunting, beautiful vocals on top of dirty dubstep beats. My idea of heaven!
Indiana is actually a local Nottingham girl as well, and I think its great that my home city is producing such amazing musical talent at the moment - Jake Bugg, London Grammar. It's going off here at the moment! Indiana will definitely be the next big thing. The Guardian and Radio One are picking up on her. Check out her single 'Smoking Gun'.
Black and white stripe long sleeve t-shirt - Dorothy Perkins
Black leather bustier dress - H&M
Snake chain necklace with spikes and gems - Primark
Grey suede cut-out ankle boots with patent heel - Marks and Spencer
I'm in love with this dress from H&M. I've had it for a while but only started wearing it recently and now I can't stop! It's very versatile. It's quite an edge piece on its own, but because its strapless, it can be styled in so many different ways.
Here, I dressed it down with a casual stripy t-shirt from Dotty P's. I live in layers of these long sleeved shirts over the winter. I actually wore black opaque tights on the night as well, which toned it down a notch.
My ankle boots came from Marks and Spencers, of all places! It's not somewhere I shop a lot (although the quality of design there goes seem to be on the up - or perhaps I'm just getting old?!) but I do love their shoes. They're one of the few places that sell half-sizes, which means I can get a 5.5 instead of a six and not get blisters from loose shoes rubbing. They also sell a wide fit range that's actually cute (yes, I have odd feet that are half-sized and wide - I think its why I don't love shoe shopping as much as you'd expect).
My necklace was a total Primark bargain. It's a heavy silver snake chain with a row of princess-cut clear gems and little metal spikes underneath - a really neat combination of sweet and subversive that I adore.
Make-up wise, of course the black shadow had to come out to play, and I kept the face neutral with just a sweep of bronzer and some lip balm.
The gig was amazing. It was a school night (I don't normally go anywhere apart from the gym, I lead a very boring weekly existance!), so it was nice to do something different. My friend and I met up with his wife and Seb, who didn't know much about Indiana but was a newly converted fan after the gig. We went to a bar for some pizzas and beers before the show.
Indiana hasn't done many gigs before and she was clearly nervous, but when she started singing, she was incredible. She's so talented and gorgeous, and her songs are beautiful. If you haven't heard her, get YouTubing now!
The gig ended at half past ten. I can tell I'm getting old because I was just so happy I could get to bed at a decent time (sad I know). I had a wonderful evening. I was planning to go and see her in April when she plays the Rescue Rooms, but I have other plans on the same night. But if you live near Nottingham I would highly recommend making the trip to see her, because next time she will probably be in an arena! Tickets are only £10 as well which is a bargain for the quality of performance.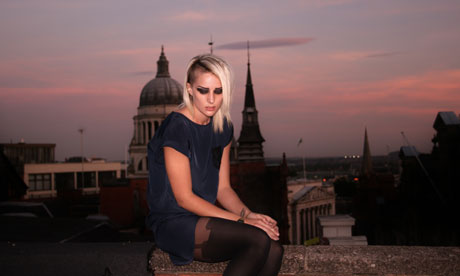 Indiana against the Nottingham skyline - the next big thing from the city that bred Jake Bugg and London Grammar?