It might be a little late in the month to do a wishlist posting, but people seemed to like my last one (it's the most viewed post of that month on here) and I certainly always carry one around with me in my head, so I thought I'd share it!
I'm going to have to be a bit careful with the old pennies this month. As well as still saving up to cover moving costs (which feels doubly painful when there's no dream house to go to as yet!), I've splashed out this month on a new iPhone. I decided a while ago to take a smaller monthly payment rather than an upgrade on my phone contract, so I've been saving the pennies so that I can get a new handset. I know it will be a good decision in the long run and leave me free to swap when I want but it's been an expensive month buying it!
So, here is my March wishlist:
Nip + Fab Viper Venom Eye Fix
£14.95,nipandfab.com/shop/
You'll probably know by now that I'm really into Nip + Fab products. I just think they're really effective, and there are a couple of items from the range that are firm favourites of mine already. So I don't know why I've never tried any of their eye products, considering I struggle with puffiness, fine lines and dark circles (all at once!) and my under-eyes are one of the worst things!
Viper Venom Eye Fix came in one of the beauty boxes this month (sadly, not one I subscribe to!) and I was really sad - I would so much rather have had this than what came in my rather lame Birchbox this month (see what that was), so it brought it front and centre to me.
This beauty is packed with great actives. It has wrinkle-minimising Liftonin and Syn-Ake, which is a neuropeptide chemical compound that mimics snake venom - this communicates with your nervous system to encourage muscle relaxation. And then there's Red Algae to reduce the appearance of your dark circles - so it's a triple whammy.
It comes with a cooling roller-ball applicator, and with so much tightening, line-minimising and dark circle busting stuff packed into it, it sounds ideal for me. Plus I trust Nip + Fab to deliver a quality product at reasonable prices.
Barry M Gelly Hi-Shine Lip Crayons
£4.99, barrym.com
I've seen a few bloggers that were lucky enough to get samples get sent some of these to try (how I wish I was on that list). You know I feel strongly about things in a crayon form, and these look amazing.
There are five shades to choose from - all brights - and they look juicy and fabulous. They're moisturising and highly pigmented, and at that price I'd be keen to try out a few! My picks would be 'Capella', a cool-toned pink (pictured) and 'Alpha', which is red. These look like a total bargain and I will be making a beeline to pick some up soon!
Millie Mackintosh for Nouveau Lash
£8.99, shop.nouveaubeautygroup.com
Hands up, I'm a false flutter junkie. But time and age have made me pickier about which lashes I favour, and despite my drawer heaving with different types of lashes, I found that I'm always drawn back to the same ones. I love my lashes to look thick and full, but I don't want them to look impossible, or obviously fake. These lashes have caught my eye because they look great quality and perfect for a natural but enhanced look.
I'm a massive fan of Miss Mack's personal style and her make-up always looks radiant and never overdone, so I have faith that these lashes would mirror that - I know she wears them a lot, and I think she always looks the right side of enhanced (as she would say 'More Chelsea than Essex') and I respect that. There are 8 different styles in the range, all named after London locations of course. They're made of natural hair to give a more realistic look. I fancy trying the style 'Soho' which is a wispy but full style.
Eyesilix
£24.99, boots.com
Another eye product! Sorry, I'm a tad obsessed. I'm debating whether to pick up the Nip + Fab stuff, or this one, which is a fairly recent launch from Indeed Labs, who brought us the much-imitated Nanoblur, which is still the original and best of the optical blurring primers in my opinion.
This claims to be a wonder cream that instantly lifts, contours, brightens, eliminates dark circles and reduces fine lines and wrinkles (it actually 'freezes' the eye area muscles!). Again, more big claims but I have heard really good reviews about this, and I know I like Indeed Labs stuff. So I suppose the decider might be what is on offer when I venture to Boots!
Bumble & Bumble Dryspun Thickening Spray
£21.50, bumbleandbumble.co.uk
I recently tried Bumble and Bumble's Thickening Hairspray in a travel size and was really impressed, so this new spin on it has got me intrigued. They call it a 'Translucent dry spray that creates instant fullness and texture to spin hair into an airy silhouette', and it sounds like just the lift my hair needs to get volume and that messy, undone look to it.
No7 Instant Radiance Foundation
£12.50, boots.com
I've picked up a couple of products from No7 recently, and its come back onto my radar a lot. Suddenly, I'm discovering lots of appealing stuff at their counter, and their blush sticks have become a big favourite of mine since purchasing. While I was browsing at the counter, this foundation caught my eye and its one of the picks I want for spring. The packaging seems to have had a bit of a sleekover recently, so it's all looking much less mumsy, and this appealed to me. It's a light, sheer formulation that I've read is a great dupe for Chanel Vitalumiere.
Its packed with light-reflecting particles, SPF 15 and vitamins A and E and it won't block your pores - of course, No7 is famed for it's skincare, so I suspect this formula will be kind to tired out skin. Seems like a great way to get radiant, rested looking skin after the long winter.
Bare Minerals Prime Time BB
£21.00, bareminerals.co.uk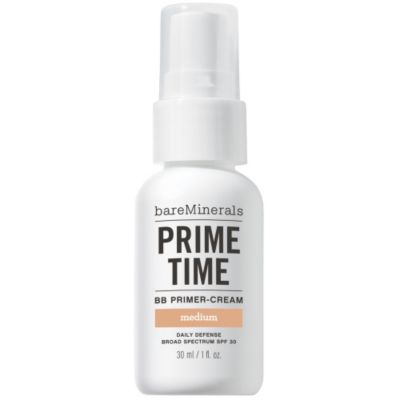 Bare Minerals is my HG foundation and I will never not have it in my kit as long as they make it! I do wear a BB cream plus a primer underneath, so this clever little product sounds like a win - its a BB and primer in one.
It claims to battle flakiness, oily patches, uneven skintone to provide the perfect canvas for your foundation. There's an SPF 30 in there too, which is really good.It seems like this would be a way to replace a few different products in my routine! I also want to start using their daily moisturiser when my current one runs out, and their new Lash Domination mascara also looks great sooo...I guess I'm a fan!
GlamGlow MudMask
£49.99, glamglowmud.co.uk
This one has been on the list for a while if I'm honest! But it is on the pricier side and it always seems to be something I can do without, so I've never purchased, but I keep eyeing it up. It's become a cult item and I've heard so many amazing things about it. It comes in a few variants now, but I want the original 'Youthmud' version. It claims to deliver both instant and cumulative results and just look at this whopping list of benefits:
Skin Collagen Synthesis for a noticeable 3 day glow.
Brighter, radiant skin in minutes.
Leaves skin noticeably soft and smooth.
Multi-level resurfacing exfoliation.
Penetrates into the deepest layers of the skin to soften fine lines and wrinkles.
Tightens, tones and lifts the skin.
Relieves dark circles and minimises pores.
Absorbs impurities without removing natural oils.
Helps protect against everyday environmental aggressors.
Need I say more? I'm really wanting to try this and see if it lives up the hype. People tell me it does, but the high price has always put me off - maybe I can get a sample size and see if it works for me? Could it even replace my beloved collagen paper daiso masks?
So that's my March wishlist - what's on yours?